Learn how to create, analyze, and share spatial data through web maps. The skills introduced in the workshop are beneficial for faculty and staff that want to learn a platform for analyzing spatial data and/or need interactive maps for use in classes, presentations, or websites.
WesGIS Workshop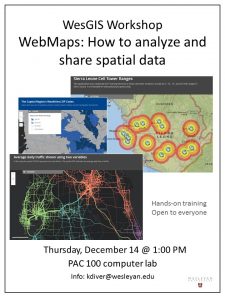 WebMaps: How to analyze and share spatial data
Thursday December 14
1:00-2:00 pm
PAC 100
The workshop is suitable for those new to web mapping as well as intermediate users.