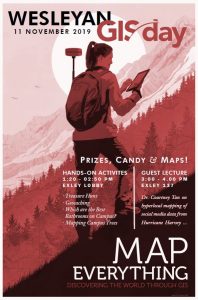 Celebrate GIS Day on November 11!
Join the celebration of geography, mapping, and spatial data analysis at the annual GIS Day on Monday, November 11, 2019. Many Wesleyan faculty, students, and staff apply geographic information system (GIS) technology to their geospatial data visualizations and analyses. Come learn what GIS is and what it can do for you – join us on Monday November 11.
GIS Day Seminar: How Hyperlocal Social Media Fueled Rebuilding after Hurricane Harvey.
Courtney Tan, Postdoctoral Research Fellow, Wesleyan Media Project, Exley 137, 3 pm
While research on online social networks and disasters continues to grow, social scientists know little about how these online networks transform during a crisis and how they drive disaster outcomes. With two original datasets, this study investigates how Houston's online social network transformed during Hurricane Harvey (2017), and how online social media activity fueled post-Harvey rebuilding. A spatial analysis and three separate regression models of activity before, during, and after Hurricane Harvey confirm that among 333 Nextdoor Neighborhoods, hyperlocal social media activity at every stage accelerated the pace of rebuilding in these geographically based online communities. These findings suggest that policy and decision makers should invest into online and offline hyperlocal social networks well before a disaster strikes, and leverage resources and legislation to maintain and strengthen the telecommunications and energy infrastructure that supports access to social media and tech during a time of crisis.
Wesleyan will join hundreds of organizations from North America, South America, Europe, Africa, Asia, and Australia in hosting GIS Day gatherings. For more information about GIS, visit http://wesgis.blogs.wesleyan.edu/, https://www.esri.com/en-us/what-is-gis/overview, and https://www.geography.com/.