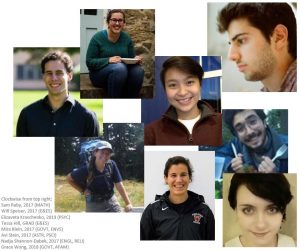 The GIS Assistant Program has two main objectives: (1) to facilitate student learning of spatial data analysis and (2) to facilitate use of spatial data analysis techniques in faculty teaching and scholarship. The Program consists of GIS savvy students available to help faculty, staff, and students with GIS-related needs. Assistantships are paid positions and Assistants work an average of 5 hours per week. Assistance can be large-scale such as helping a faculty member to design a course module or to implement spatial analyses for a research project. Or faculty can request someone for specific short-term tasks such as to geocode a dataset or create a map. The GIS Assistant Program is two-fold:
(1) A GIS Assistant is paired with a Wesleyan faculty member to assist with GIS-related aspects of a course or a research project. This allows faculty to integrate GIS-related content into courses or to incorporate GIS into a long-term or mini project. Faculty can request a dedicated GIS Assistant for partial or entire semesters.
(2) GIS Assistants hold regular drop-in hours. The drop-in hours are designed to help students, faculty, or staff with GIS-related questions. For example, to discuss how to feasibly incorporate a spatial context to a project or to get help with a specific skill.
 GIS Assistants
| | | | |
| --- | --- | --- | --- |
| Semester | Professor | Course/Project | GIS Assistant |
| S 2018 | B. Adams | SISP 245 Ethnography and Design | Louisa Winchell ('18 ENGL, ENVS); Sophia Ptacek ('18 SISP) |
| F 2017 | I. Bork-Goldfield | German Jews: Their journey to America and return to the Old Country | Louisa Winchell ('18 ENGL, ENVS) |
| | S. Versey | PSYC 325 Healthy Places: Practice, Policy, and Population Health | Louisa Winchell ('18 ENGL, ENVS) |
| S 2017 | D. Gandolfo | Course Materials; Story Maps; Georeference old Lima maps | Sam Raby ('17 MATH) |
| | K. Diver | QAC 231 Introduction to (Geo)Spatial Data Analysis and Visualization | Tessa Hill ('16 E&ES, '17 E&ES-MA) |
| | G. Shaw | Travelers Lab | Elizaveta Kravchenko ('19 PSYC, SISP) |
| | K. Birney & C. Parslow | CCIV 341Visualizing the Classical | Mira Klein ('17 GOV, ENVS) |
| | M. Gilmore | Planetary geomorphology | Avi Stein ('17 ASTR) |
| | P. Patton | LIDAR / drone | Will Speiser ('17 E&ES) |
| | E. Charry | MUSC 275 Music and Downtown New York | Will Speiser ('17 E&ES) |
| | S. Versey & H. Poulos | NYC and urban development project | Mira Klein ('17 GOV, ENVS); Nadja Shannon-Dabek ('17 ENGL, RELI) |
| | J. Torgerson | COL 128 Constantinople: From Rome to Istanbul | Nadja Shannon-Dabek ('17 ENGL, RELI) |
| | B. Johnston | Disease in Japan | Elizaveta Kravchenko ('19 PSYC, SISP) |
| | C. Patterson-Faye | SOC 399 Hot Mamas: Black Women, Body Size and Sexuality | Sam Raby ('17 MATH) |
| | S. O'Connell | E&ES 199 Introduction to Environmental Science and Sustainability | Sam Raby ('17 MATH) |
| | L. Bui | AMST 336 Comparative Asian and Latina/o Immigrant Experiences | Grace Wong ('18  AFAM, GOV) |
| | E. Grimmer-Solem | Generating static + dynamic maps of traveler journeys for book | Sam Raby ('17 MATH); Elizaveta Kravchenko ('19 PSYC, SISP) |
| | S. Raby | QAC 420 Designing Mapping Technologies for Social Justice (student forum) | Mira Klein ('17 GOV, ENVS) |
| F 2016 | D. Gandolfo | Course Materials; Story Maps; Georeference old Lima maps | Sam Raby ('17 MATH) |
| | J. Kleindienst | Wesleyan campus tree map | Tessa Hill ('16 E&ES, '17 E&ES-MA) |
| | K. Diver | WesGIS Website help | Grace Wong ('18  AFAM, GOV) |
| | G. Shaw | Travelers Lab (Gary Shaw, History) | Elizaveta Kravchenko ('19 PSYC, SISP) |
| | K. Birney & C. Parslow | CCIV 341 Visualizing the Classical (spring 2017 course) | Mira Klein ('17 GOV, ENVS) |
| | M. Gilmore | Planetary geomorphology | Avi Stein ('17 ASTR) |
| | P. Patton | E&ES 220 Geomorphology; LIDAR / drone | Will Speiser ('17 E&ES) |
| | E. Charry | MUSC 275 Music and Downtown New York | Will Speiser ('17 E&ES) |
| | S. Versey & H. Poulos | NYC and urban development project | Mira Klein ('17 GOV, ENVS); Nadja Shannon-Dabek ('17 ENGL, RELI) |
| S 2016 | C. Fullilove | The Political Geography of Biodiversity | Mads O'Brien ('16, E&ES, SISP); Remy Johnson ('16 NS&B) |
| | A. Hornstein | Words vs Action project | Mads O'Brien ('16, E&ES, SISP); Sophie Breitbart ('16 BIOL) |
| | G. Shaw | Medieval Bishop Movement | Stephanie Ling ('16 MATH) |
| | C. Dimas | map making assistance and GIS instruction | Sophie Breitbart ('16 BIOL) |
| | C. Maines | Architecture and Monastic Life to the 13th Century | Sophie Breitbart ('16 BIOL) |
| | L. Bui | GIS instruction | Sophie Breitbart ('16 BIOL) |
| | K. Diver | QAC 231 Introduction to (Geo)Spatial Data Analysis and Visualization | Tessa Hill ('16 E&ES, '17 E&ES-MA) |
| | M. Katz | ARHA 211 Early Medieval Art: Judaism, Christianity and Islam in the Mediterranean | Sam Raby ('17 MATH) |
| | D. Gandolfo | ANTH 249 From Metropolis to Megalopolis | Sam Raby ('17 MATH) |
| | Y. Velez | map making assistance and GIS instruction | Grace Wong ('18 AFAM, GOV) |
| F 2015 | C. Fullilove | The Political Geography of Biodiversity | Mads O'Brien ('16, E&ES, SISP); Remy Johnson ('16 NS&B) |
| | G. Shaw | HIST 211 Digital History; Medieval Bishop Movement | Stephanie Ling ('16 MATH) |
| | F. Cohan & D. Krizanc | BIOL/COMP 327 Evolutionary and Ecological Bioinformatics | Sophie Breitbart ('16 BIOL) |
| S 2015 | A. Williams | HIST 211 Digital History | Kate Cullen ('16, E&ES, HIST) |
| | C. Zamboni | ITAL 112 Intermediate Italian II | Kate Cullen ('16, E&ES, HIST) |
| |  C. Maines | ARHA 213 Monastic Utopias: Architecture and Monastic Life to the 13th Century | DeNeile Cooper ('15, ANTH); Margaret Daly ('15, ANTH) |
| |  R. Ficek | CHUM 309 Road Trip! Mobility and Encounter in the Americas | Talia DeRogatis ('15, AMST, ENVS) |
| |  J. Torgerson | COL 128 Re-imagining East and West: Constantinople between Rome and Istanbul | Marjahn Finlayson ('15, E&ES) |
| | G. Shaw | HIST 201 Medieval Europe | Abby Shneyder ('17 HIST, ITAL) |
| | M. Kingsley | Patricelli Center for Social Entrepreneurship | Sadasia McCutchen ('17, CSS) |
| | | QAC Tutor with GIS proficiency | Mads O'Brien ('16, E&ES, SISP) |