(Disclaimer: last updated Spring 2015; see Gallery for additional, newer student projects)
A Guided Tour of Wesleyan Trees. Andrea Schindler and Rachel Hirsch mapped trees on campus and created a walking tour of a selection of those trees. (Spring 2015 QAC 231.)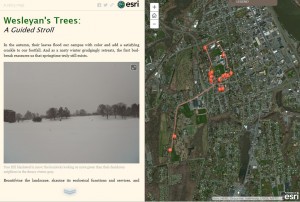 A Spatial History of Wesleyan University. The Spring 2015 Digital History course collaborated to create a story map encompassing maps, oral histories, archival information, and data analysis.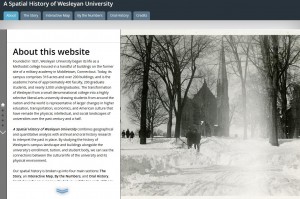 Senior Wood Frame Housing Options Map. William Mendoza and Scarlett Perry's Spring 2015 QAC 231 project helps students pick out senior housing. Click here for the full interactive map.
Wesleyan Campus Mapping Project. The map below is the story map prototype for an interactive Wesleyan Campus Map created by introductory GIS students (E&ES 324, Fall 2014) in collaboration with Wesleyan Facilities and Physical Plant. Student cartographers include DeNeile Cooper, Rebecca Sokol, Chloe Holden, and Katy Thompson. (Click here for the original story map format.)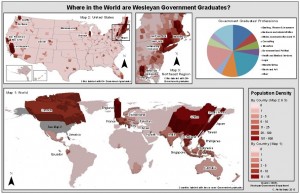 Locations of Government Department Alumni. Introduction to GIS student Aletta Brady ('15) crafted a map illustrating the current locations of Government Department Alumni. Check it out at http://www.wesleyan.edu/gov/departmentalumni/index.html.
Middlesex Land Trust GIS. The map below shows study sites mapped and analyzed by introductory GIS students (E&ES 324) in their service learning projects in collaboration with The City of Middletown, the Middletown Conservation Commission, and the Middlesex Land Trust.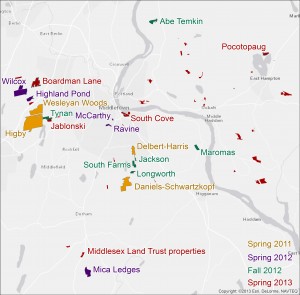 (Map copyright 2013, K. Diver)